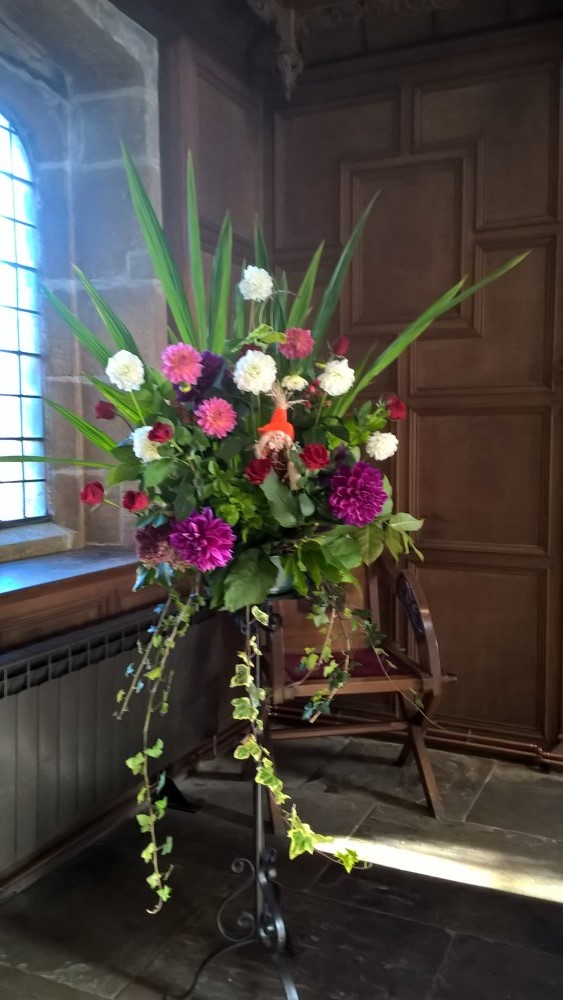 It has long been a tradition to have fresh flowers to enhance the church building, and we attempt to continue this at all times.The church remains open to visitors all day, every day, and as we like it to look welcoming, attractive and cared for, the presence of flowers at the altar is a part of that ambience.
Very few people involved in decorating our church with flowers have any formal training in flower arranging, but we hope to have some lovely blooms on display each week to reflect the natural wonders of plant life. We have a rota for the year on which those willing can place their names, either to be responsible for doing the flowers or to offer money towards the costs. Some people like to do the flowers for a particular anniversary of their own or in memory of a dear one, or to offer the money for the same reasons. We are always in need of more people willing to share in this pleasant occupation, of enjoying and appreciating what can be done with lovely blooms and greenery.
For special festivals, such as Easter, Christmas, Harvest and Mothering Sunday, we try to decorate more areas of the building, which lends itself to some unusual treatment. We are blessed with niches in the main pillars of the nave, in which small statues are believed to have stood at one time. These are now perfect positions for flowers or candles. The window sills are deep and wide and these too invite various forms of decoration. We have two beautiful wrought iron stands for flower arrangements, given in memory of a former parishioner, so using these different areas we can bring more colour into our large and grand church.